Technicians Contactskeyboard_arrow_down
Accesskeyboard_arrow_down
Truck
Address / unloading dock info, freight elevator (size) (English)
Supplies of equipment - access to the tray
Two elevators and a set-up allow the delivery of material on the stage.
• 1 set-top located on Bernard Palissy Street, to be used only during authorized delivery hours. Direct access behind the scenes. (L11,95 m - l 2m - h 2,20m).
Max load: 15 tons.
• 2 hoists located boulevard Heurteloup, at the delivery area of the convention center.
(L 5.70m - l 2.90m - h 2.90m).
Max load: 9 tons.
Access from the delivery area to the stage by tunnel of 135 m.
Attention: the scenery (Bernard Palissy street) can not be used in the evening. The equipment must be reloaded at the delivery area by the
2 freight elevators and the tunnel (length: 135 meters).
Bus Tour
Power plugs available for the bus:
Artists
Artist entrance
L'accès des artistes se fait par la rue Bernard Palissy. Pour des raisons de sécurité, les accès sont contrôlés par des lecteurs de badges.
Power Availablekeyboard_arrow_down
Electrical cabinet 1
| Sound/Light/Video/Accessory | Name Number | Total power | Transformer | Position (stage) | Position | Distance to stage |
| --- | --- | --- | --- | --- | --- | --- |
| Son | | 250 | | Left | Back | |
| Connector | Qty | Phases | Amp | Diff | Notes |
| --- | --- | --- | --- | --- | --- |
| CEE P17 125A | 1 | Tetra | | | |
| CEE P17 63A | 1 | Tetra | | | |
| CEE P17 32A | 1 | Tetra | | | |
| CEE P17 32A | 1 | Mono | | | |
| Terminal block | 1 | Tetra | | | |
Electrical cabinet 2
| Sound/Light/Video/Accessory | Name Number | Total power | Transformer | Position (stage) | Position | Distance to stage |
| --- | --- | --- | --- | --- | --- | --- |
| Lumière | | 400 | | | | |
| Connector | Qty | Phases | Amp | Diff | Notes |
| --- | --- | --- | --- | --- | --- |
| PowerLock | 1 | Tetra | 400 | | et Bornier |
| PowerLock | 1 | Tetra | 250 | | |
| CEE P17 125A | 1 | Tetra | | | |
| CEE P17 63A | 1 | Tetra | | | |
| CEE P17 32A | 2 | | | | tetra et mono |
Room / Gaugeskeyboard_arrow_down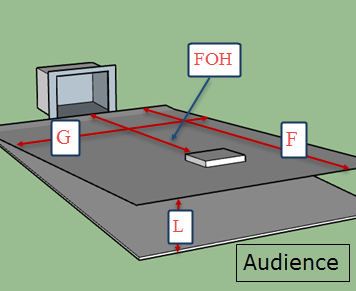 Configurations
| Configuration name | Seating places | Standing room | PRM | Total |
| --- | --- | --- | --- | --- |
| parterre | | | | |
| fosse orchestre | 124 | | | 124 |
| PMR | | | 18 | 18 |
| Balcon | 542 | | | 542 |
| Total | 1982 | | | 1982 |
Stagekeyboard_arrow_down
under grill
23
proscenium arch
11
wall to wall
29.2
proscenium arch
19
16.3
1
Legs drops
• 2 frises 22 m x 4 m
• 4 frises 22 m x 2 m
• 5 plans pendrillons 11 m x 4 m
• 2 fonds noirs 22 m x 11 m
• 1 rideau AV scène noir - ouverture du rideau à la grecque, à l'allemande, sur vitesses variables
• 1 pupitre commande machinerie cour
• 1 pupitre régisseur cour
Fly system
Longueur des porteuses 22 m + rallonge 1 m
Vitesse :des porteuses : 5''/m
des herses : 10''/m

32 Porteuses contrebalancées 500 kg
8 Porteuses motorisées 500 kg
4 Herses motorisées 1000 kg
2 porteuses latérales contrebalancées 500 kg
4 ½ longueurs latérales contrebalancées 500 kg
1 pont mobile + manteau 2000 kg
Other
Arrière-scène :
Largeur 16,80 m Profondeur 7,70 m

Fosse d'Orchestre :
Dimensions : 18,35 m x 4,40 m
4 positions présélectionnées : • proscenium
• avec les fauteuils
• fosse orchestre
• rangement des fauteuils
Soundkeyboard_arrow_down
| | |
| --- | --- |
| PA Sound System | Nous consulter |
Lightkeyboard_arrow_down
Console
1 console EXPERT 384 circuits AVAB/R. JULIAT
• 252 gradateurs de 3kw DIGI IV R. JULIAT
• 50 gradateurs de 5kw DIGI IV R. JULIAT
• 8 DIGIBOX IV 6x3kw R. JULIAT (dont deux libres)
• 4 DIGIBOX IV 3x5kw R. JULIAT
Trad
60 projecteurs PC 1000 W 306HPC R. JULIAT
• 36 projecteurs PC 2000 W 329HPB R. JULIAT
• 18 projecteurs à découpe 2000W 710S R. JULIAT
• 19 Projecteurs à découpe 1000W 614S R. JULIAT
• 54 Cycliodes 1000W 852 R. JULIAT
• 36 Projecteurs PAR 64 1000W / 220V
• 26 Projecteurs BT 500W 845 R. JULIAT
• 16 Projecteurs BT 250W 843 R. JULIAT
• 8 Rampes SVOBODA (9 x 250W) ADB
• 23 Rampes BRABOS 8 (8 x 50W / 12V Dichroïque) R. JULIAT
Other equipment
• Protocole de commande numérique : DMX 512
• 8 lignes DMX disponibles de la régie vers le plateau
4 liaisons RJ 45 cat. 6
Distribution réseau interphonie dans toute la salle
Liaison fibre optique
• 27 points 18 kW + Data répartis dans la cage de scène et sur les passerelles de salle.
• Connecteurs Data : XLR 5 broches
• Connecteurs 18 kW : MARTIN LUNEL tri+N+T 3x32A (possibilités P17 32A sur adaptateurs)
• Connecteurs lignes 3 kW : 2x PC 10/16A+T NF
• Connecteurs lignes 5 kW : 3x PC 10/16A+T NF+1xP17 32A mono
Grill plot
Dressing room, Office, Cateringkeyboard_arrow_down
Dressing rooms

| Number | Note, position | Size | Shower | WC | Sink | WiFi |
| --- | --- | --- | --- | --- | --- | --- |
| | 3 loges au -2 jardin 1personne | | | | | |
| | 1 loges ai -1 12 personnes | | | | | |

Additional Information (English)
The dressing room are spread over 3 levels around the stage cage and connected by lifts. Artists' access is via Bernard Palissy Street. For security reasons, access is controlled by badge readers.
We have other lodges and homes (see additional services).
Production office
Catering
How many plugs:
Utility room
If the room is empty: